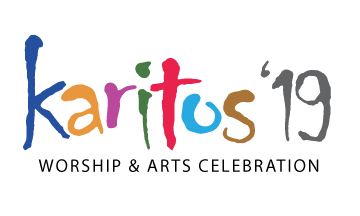 Friday, April 12th
@ 6:30 pm

Sign of the Dove
424 10th St.
Waukegan, IL 60085
Have you ever hoped for a way to share the incredible experience of Karitos with your family, friends or church leadership? Now is your chance!! Join us for an evening of food, fun and fellowship all while taking a little taste of what will be coming to you this July. Sample mini workshops in visual, music, dance, theatre and more in the festive atmosphere of fellow Karitosians.
A FREE worship experience begins at 8 pm!

Pastors and all church clergy are COMPLETELY FREE, but will need to register, so make sure to invite them as your special guest!

A limited number of vendor spots also available by contacting Angel@Karitos.org
​
Contact Susannah@Karitos.org on info on how to register your pastor or clergy
Only $25
​
Includes choice
of 6 Mini Workshops
& Appetizer Reception
​
HURRY!
ONLY 50 TIX
AVAILABLE!
6:00 PM Doors open and Marketplace begins
​
6:30 PM Appetizer reception begins
​
7:00 PM Mini Workshop Session A (20 mins)
​
7:30 PM Mini Workshop Session B (20 mins)
​
7:55 PM Appetizer reception & Marketplace closes
​
8:00 PM Evening Worship Experience begins in Sanctuary
9:30 PM Worship Experience ends & Marketplace reopens
​
10:00 PM Doors close
​
​
​
Ginny Ching Yin Lo (Modern), Anisa Diaz (Hip Hop)
We welcome everyone to join our non-stop mini dance workshop. Here you will experience two different dance styles to connect with our Lord through movement in 20 minutes.
​
7:00pm
God has planted ideas and desires in our hearts and He wants us to nurture and to cultivate them. Based on the verse "A hope deferred makes the heart sick, but a dream fulfilled is a tree of life." We'll discuss what dream, idea, or vision God has planted within your heart.
​
7:00pm
This session sets out to encourage leaders to never lose their sense of awe of the awesome wonder of our God!
​
7:00pm
Theatre/Film: God's Story, My Story
We are blessed to know God's story through his written word, but God's story continues to be told through our everyday lives. Does God want to use our lives to tell an even bigger story? If so, what might this story look like, sound like, feel like? Are you up for the challenge?
​
7:30pm
Create A Mini Accordion Book
Join artist and entrepreneur Joey Kikke for some fun with colored pencils! Create your own mini accordion book filled with "moving" contour drawings.
​
7:30pm
Wise Process for Worship Team Members
An important facet of worship is that God deserves more than our very best at all times. We will emphasize that worship is a lot more than what takes place while people sing and play instruments; worship is a lifestyle. Authenticity in our daily walk is recognized during those corporate worship times. Our dedication to God is reflected in our dedication to hone our craft so that the focus of worship remains on Him.
​
7:00 pm
Please reload
Rose Calkins is one of the founders of DuPage Writers Group, NFP, which has been in existence since 2004 and has published "Possibilities," an annual literary journal celebrating the works of its members and guests. It contains a collection of varied literary genre along with original art and photography. DWG cultivates the literary arts in the neighboring communities as well as nationally through diverse and collaborative programming. Rose was instrumental in creating poetry readings, writing workshops, authors' speaker series, writing retreats, children's writing workshops with an accompanying published journal, LitLab, a performing art collaborative with Teen Artists and Writers Group; and publishing a collection of veterans stories.
Rose has mentored and encouraged many writers throughout the years. She is president of Sky Blue Living Publishing. She writes children's books and has written and published "Grammie is My Favorite Ice Cream".
Rose is a teacher and thus a learner. She has taught art, drama, writing composition, journalism, and literature.
​
She is an overtime (like most in her field) "Mom Engineer" of three teens and one young adult, which gives her the most perspiration and inspiration. Rose is grateful to her husband Tony for his love and support and to God for His love and support :)
Alan Harvey is a versatile minister, guitar player and singer/songwriter. He leads worship at River Of Life Missionary Church in Michigan City, Indiana,and The Dwelling Place (a Calvary Chapel Fellowship) in Valparaiso, Indiana. He has been involved in Christian Music since he gave his life to Christ in 1979, and has served as worship leader and worship pastor in multiple fellowships over these last 39 years. He has been active in many Christian worship events over the years such as Karitos, and the Joyfest, where he served as Event Coordinator. This was a very successful Christian music festival that ran at Michigan City's lakefront for 12 years, with an average annual attendance of over 2,000.
Alan is also the front man and manager for the Christian Blues group, Blud Bros (www.bludbros.com). This group has been playing out in festivals, prisons, rehab centers and other events since 2000. The band has had multiple top songs on MP3.com and has been ranked among the top Christian Blues bands out there by various enthusiasts. Their 2 CD's (Not What You Think, 2006 and Above the Hum ,2010) have sold over 2,500 copies with no distribution.
Alan was born and raised in a family of musicians. He learned to play guitar at age 11 and by the time he became a Christian he had already been a professional performing and recording artist for more than a decade. Jesus gave Alan's life and music a whole new, and very wonderful purpose. Early in his walk with Christ, Alan set his mind to achieving the goal of being involved in some of the most beautiful music God has ever heard. As his understanding of the Bible grew he realized that God is more interested in the state of the heart of the worshipper, not necessarily the perfection of the performance. Loving God through music and the Word are the prime motivations of Alan's life.
As a minister Alan serves as a chaplain for the Michigan City Police and Fire Departments, along with the Billy Graham Evangelistic Association's Rapid Response Team. He teaches the Bible, serves as an Elder in his fellowship, and covers whatever bases are necessary in carrying on the work of the gospel. Educationally, he holds a Bachelor of Science in both Biochemistry and Emergency Management. He also holds a Master's of the Arts in Theology/Christian Studies.
Alan has been a staple on the Karitos Worship team as guitarist and singer at the nationwide event seven times over the last 14 years, and is looking forward to helping people draw closer to Christ through worship and music.
It sounds like a cliché, but I have always been interested in art. I remember drawing on everything as a child. I became a Jesus Follower during the Jesus Movement, and wanted to be an artist for Jesus! I earned a BA in Studio Art and Secondary Education from Northeastern Illinois University. After a few years teaching art in the Chicago Public Schools, Snippets of Life Studio was launched. Now I spend my time painting and teaching workshops. Next to the amazing family and friends I've been blessed with, being an artist for Jesus has been the thrill of my life. AND the best is yet to come!
Ginny Ching-Yin Lo is the founder of the not-for-profit community dance education program, Identity. Its mission is to connect, create, and affirm. Ginny has trained with the Hong Kong Ballet and Madame Boltsov in Chicago. She has danced professionally with Boltsov Classical Ballet and Illinois Ballet Theater. She holds a B.A. in Dance from Columbia College and a M.A. in Communication and Culture from Trinity International University, with a thesis project on "Art & Theology." Ginny has worked as the artistic director of Lombard Dance Center and as guest faculty with Tongji University Dance Education in Shanghai. Her choreography has been presented in the United States, China, and Germany. She has broad experience teaching dance to professional dancers, youths, and adults. As a missionary in China, she led a migrant performing troupe using performing arts to share the gospel, which brought many to faith. Ginny has served as the Dance Department Head of Karitos since 2015. For more information on Ginny's work, visit:
www.identityperformingarts.org
Pastor Cory E. Ratliff, is the Founder and Artistic Director of ALATS Dance an outreach ministry of The Sign of the Dove Church where he is Senior Co-Pastor.. He began the organization in 2010 in response to a need for more intentional training towards children in dance theater performance. The program began with 12 children ages 6 -12, and has grown to 50 plus students from the all over the North Shore community. As a member of the Waukegan Arts Council, he has used ALATS Dance as an ambassador for dance in the Waukegan Community.
​
He has a BS degree in Vocal Music Education from the University of Illinois, has taught in the North Chicago school district for 7 years and was the Head Administrator for Shelia Daniels Christian Academy for 2 years. He has dance training from North Shore School of Dance under Lisa Gold and training through college courses in modern dance technique.
​
Pastor Cory served as vocal coach, vocal director, producer, choreographer and orchestra maestro for several productions with Up and Coming Theatre Company of Rolling Meadows, IL
​
Pastor Ratliff began singing and dancing at an early age. He has performed as a soloist in several areas of music ranging from classical to musical theatre and opera. He has extensive experience in conducting choirs and coaching soloist. He has been a speaker and dance instructor at many workshops and conferences internationally. Pastor Cory is also a choreographer and stage director and has produced several original productions for the church that encourage the body of Christ. He is also a lyricist, composer and recording artist in worship with two CD's to his credit entitled "Let Your Glory Return to this Temple" and "Fruit of My Lips".
​
Pastor Cory Ratliff is married and has three children. He is a resident of Waukegan, IL and works as the Senior Co-Pastor of The Sign of the Dove Church. He is very passionate about His love for God and the use of the Arts to bring reconciliation to the community.
Guy Silagi is an independent filmmaker, visual storyteller, scriptwriter, director and producer of dramatic and documentary films for over 25 years. He approaches storytelling as a visual artist from a journalistic perspective to capture story essence without promotional bias.
School Teacher and Minister of Dance. Anisa is mostly self-taught in Hip Hop and Latin Dance, with training in Spiritual Worship from Dorolyn Academy in Chicago, IL, Modern Dance from Steps of Grace Ballet School in Brookfield, WI, and Contemporary and West African Dance from Rhemadance Studios in Kenosha, WI.
​
In 2001, she began teaching dance as a part of worship in Chicago, and is now on the worship team at Sign of the Dove Church in Waukegan, IL. Anisa is the Director of Alats Dance Company, ages 13+ to develop and train up disciples, and to explore giftings in Christ through dance (Hip Hop, Modern, Contemporary, Latin, African). She is also a Hip-Hop Choreographer at Steps of Grace Ballet school, and Alats Dance Club for children ages 7 -12 where she teaches spiritual growth, technique, and production performances.
​
Anisa is passionate about ministering in dance in the United States, Latin America, Tanzania and Uganda. She loves Jesus and wants to share the joy He has given her through dance to others.
Please reload
Sign of the Dove
424 10th St.
Waukegan, IL 60085
​
​